Homecoming isn't just a dance or a game it's a week full of tradition at Erie High School!
The week will begin with spirit days where students and staff dress according to the theme of each day. This is a great way to show your school spirit. Once the spirit days are announced, this article will be updated.
Next up is the Student Government (StuGo) sponsored dodgeball tournament on Wednesday, September 29th at 6:30pm. You'll be able to sign your team up to participate beginning next week.
On Friday, October 1st, we will have an assembly schedule so that we can have a whole-school pep rally at Tiger Stadium. This fun and exciting tradition is to get all of the students pumped up for the big Homecoming Football Game and will be filled with fun games and activities. The schedule that day is: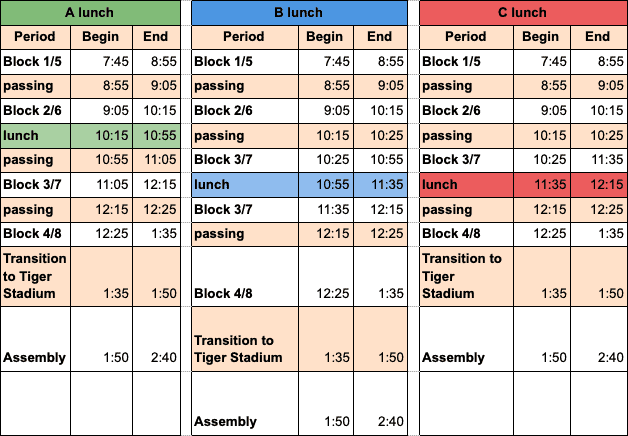 The next thing up on the Homecoming agenda is the annual Erie Optimists' Homecoming Parade through old town! The parade kicks off at 5:15pm at Erie Middle School and makes its way through town to get the whole community excited to show their Tiger Pride!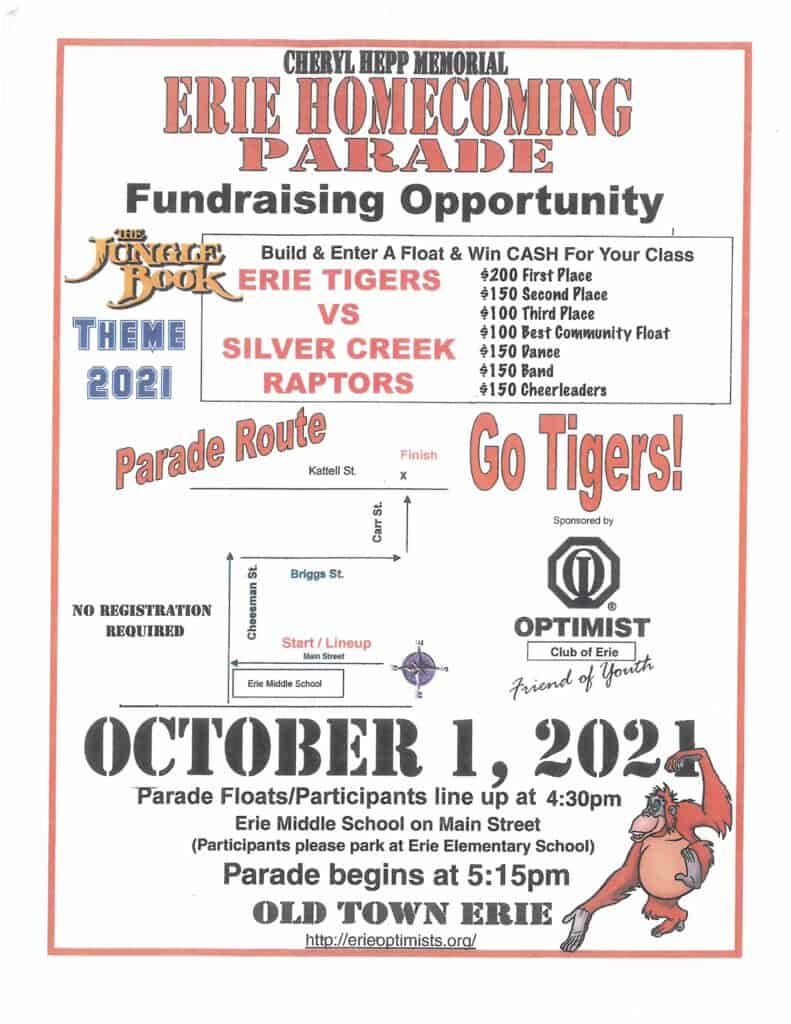 The Homecoming Football Game has your Erie Tigers facing off against the Silver Creek Raptors. The game starts at 7pm but make sure you arrive early because this game is the most well-attended game of the season with fans from the community as well as alumni. We'll update this story with more information about the logistics of the game as the details become available. We'll have halftime performances by Erie Spirit and the EHS Marching Band and we'll name and crown the Homecoming King and Queen! To nominate students for your Homecoming Royal Court, please visit this form.
The Homecoming Dance will be on Saturday, October 2nd from 7 – 10pm at Tiger Stadium. This late change in venue allows us to host more EHS students and guests from other schools. Since it's outdoors, attendees will not need to wear masks though, as always, they are welcome to. The theme of the dance this year is Mardi Gras! Erie High School is going to let the good times roll! Tickets for the dance are available HERE. Tickets are $25 each. Please note that if you wear high heels you should bring a pair of sneakers to dance in since heels will damage the turf in the stadium (they are also WAY less comfortable!).
Additional details will be added to this story as updates come in. Stay tuned and get excited for EHS Homecoming 2021!