Homecoming, Parent/Teacher Conferences, etc.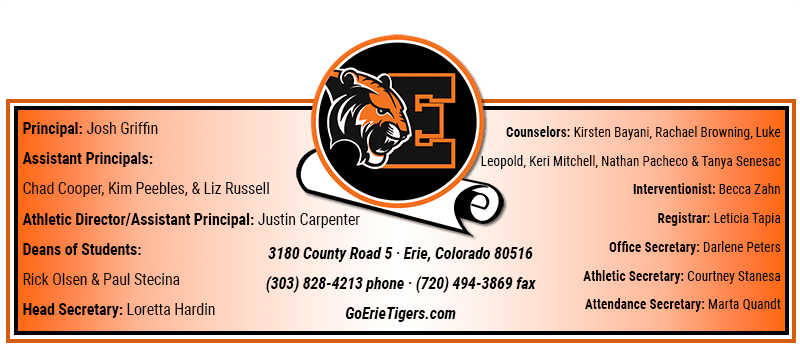 Dear Erie High School Families,
We are wrapping up another great week at Erie High School. Thank you for your continued support as we work in partnership to ensure that all of our students can thrive in our school community.
We are in the midst of a very busy period of the fall, and I have greatly enjoyed seeing continued student learning during my classroom visits, as well as the incredible achievements of our student-athletes, leaders, and performers in their various endeavors. Today (and everyday) is a great day to be an Erie Tiger!
I am looking forward to a fun, uplifting Homecoming Week from October 3rd – 8th at Erie High School. Homecoming is an important community event, and it should build positive spirit and enthusiasm in our school for students, staff, alumni, and families. I am excited to participate in my 1st ever EHS Homecoming Week.
I appreciate the hard work and dedication of our Student Government, who has organized Spirit Days and school events, and has planned our Homecoming Dance on Saturday, October 8th. We are looking forward to a great dance, and ask for your partnership in supporting a fun, safe, and positive environment for all of our students during the dance. You can learn more about the dance and purchasing tickets here.
We look forward to a great turnout for our Homecoming football game at Tiger Stadium on Friday, October 7th at 7:00 pm. We play Monarch High School – it will be great to see our community come together to support the Tigers that night. I encourage our students, staff, and families to consider additional opportunities to support our students outside the classroom. Please consult our Erie High School Athletic Calendar to find opportunities to support our fall sports programs next week, including boys tennis (regional meet) boys golf (state meet), softball, boys soccer, volleyball, and cross country programs, all of whom have competitions next week. Additionally, please support our performing arts programs over the next two weeks as they have their fall performances/concerts.
I hope that you all have a great and restful weekend. I look forward to seeing you all back next week for the 2022 EHS Homecoming Week!
Sincerely,
Josh Griffin
Erie High School Principal