Dear Erie High School Community,
Thank you for being a part of the Erie High School community and for your continued support as we work to advance student learning and academic success.
Beginning with the 2023-2024 school year, we are implementing a revised policy regarding student schedule repairs. This revision is necessary as Erie High School continues to grow, impacting our ability to manage a large number of schedule repairs. Master scheduling across a high school of this size is complex. Individual student schedule repairs significantly impact classroom seat counts, staff allocation, and our ability to offer specific courses. We invite you to review the policy below in preparation for implementation in the 2023-2024 school year.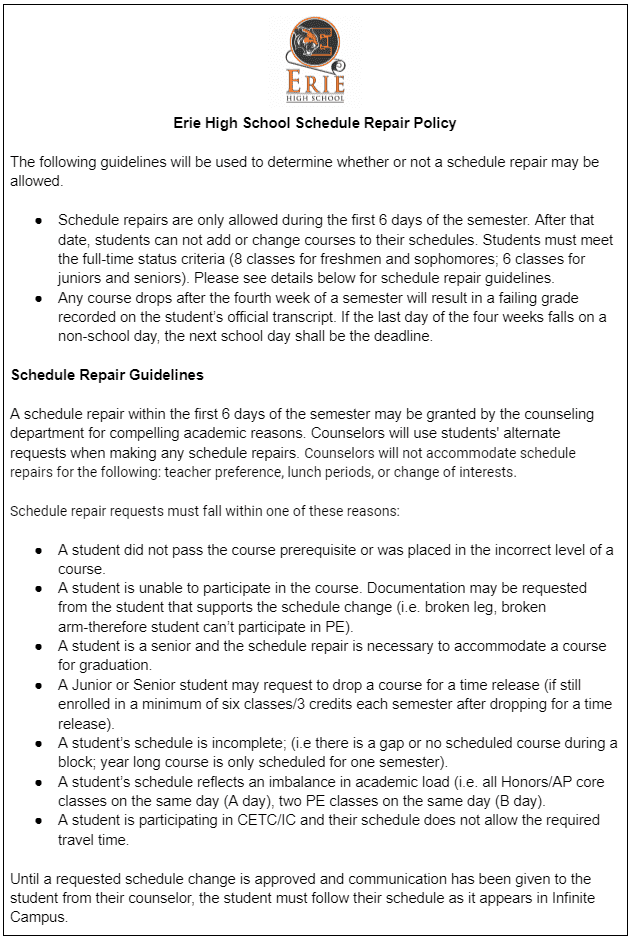 Schedules are slated to be released to students on May 15, 2023 at 3 p.m. Please note that the schedule provided in Infinite Campus when schedules are released in May is to be used for your planning purposes but will not be considered final until the first day of school in August. Final changes to the school's master schedule could continue throughout the summer due to shifting student needs, enrollment, or staffing, therefore there could be schedule adjustments between now and August. Please review the following timeline for schedule release and repairs:
2023-2024 school year schedules are slated to be released on Monday, May 15, 2023, at 3:00PM
Schedule repair request Google form opens for requests on Friday, August 11, 2023, at 8:00AM
Schedule repair request Google form closes for requests on Thursday, August 24, 2023, at 2:45PM
All requested schedule repairs finalized by 3:00PM on Friday, August 25, 2023
We appreciate your continued partnership in the education of your student(s). We are looking forward to a great 2023-2024 school year.
Go Tigers!