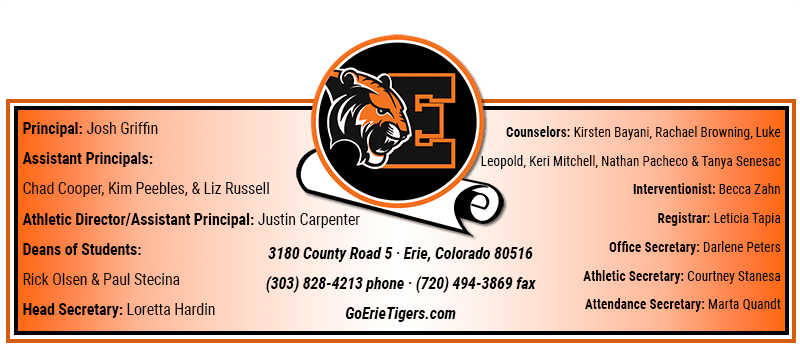 March 17, 2023
Dear Erie High School families,
Thank you for your continued support throughout the course of this semester. I hope that you are looking forward to Spring Break. I wish our students, teachers, staff, and families the very best in this upcoming break, and I hope that all of our community members have a chance to rest, relax, and recharge for what will be a busy and exciting conclusion to our school year.
On Wednesday, the College Board deadline for registration for AP examinations occurred. I am proud to share that a total of 827 Erie High School students are registered to complete 1,137 AP exams between May 1 – May 12. AP courses offer our students a great opportunity to engage with rigorous academic coursework with a chance to earn college credit by way of the exam. These courses and exams also play a vital role in the Erie High School AP Capstone program.
I am proud of the high level of participation in our AP courses, and we will continue to work to prepare and encourage all students to participate in these advanced-level courses in the future.  I appreciate the hard work and dedication of our teachers as they prepare students for success in their AP coursework.
Please accept my best wishes that you and your family have a great Spring Break. I look forward to welcoming back our students and staff on March 27th.
Sincerely,
Josh Griffin
Erie High School Principal