Honors Courses
Erie High School offers numerous Honors level classes. These classes take the subject matter to an increased depth compared to the non-Honors version of the class. Honors classes for freshmen and sophomores are also weighted. An A counts as 4.5 on a 4.0 scale.
Honors English 9
Most incoming freshmen pursuing an honors track in Social Studies begin with AP Human Geography
Honors Biology
Honors Chemistry
Honors Geometry
Honors Algebra 2
Honors Pre-Calculus with Trigonometry
Advanced Placement (AP) Captsone
AP Capstone™ is a College Board program that equips students with the independent research, collaborative teamwork, and communication skills that are increasingly valued by colleges. It cultivates curious, independent, and collaborative scholars and prepares them to make logical, evidence-based decisions.
AP Capstone is comprised of two AP courses — AP Seminar and AP Research — and is designed to complement and enhance the discipline-specific study in other AP courses. Participating schools can use the AP Capstone program to provide unique research opportunities for current AP students, or to expand access to AP by encouraging students to master the argument-based writing skills that the AP Capstone program develops.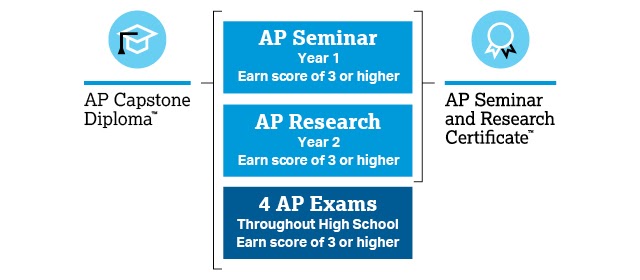 Students who earn scores of 3 or higher in AP Seminar and AP Research and on four additional AP Exams of their choosing receive the AP Capstone Diploma™.
Students who earn scores of 3 or higher in AP Seminar and AP Research but not on four additional AP Exams receive the AP Seminar and Research Certificate™.