The Journalism Program at Erie High School is a unique program within the state that offers kids the opportunity to learn 21st century journalism skills. This award-winning program provides opportunities for students who are interested in Video Production, News Reporting, News Writing, and Live Broadcasting. Journalism is useful for every person in today's world where everyone has a smartphone and is constantly engaging as a "journalist" is the world around them through social media. Rarely do programs provide students with opportunities to learn skills useful in as many areas like communication, interview skills, storytelling, critical thinking and time management.
Programs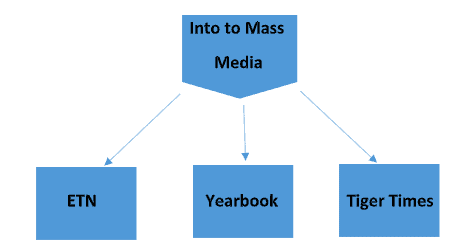 Mass Media
Mass Media provides an introduction into the world of journalism. Students will study the different types of journalism and how they impact the world today. Students will learn journalistic ethics & principles. Students will also be immersed in hands-on journalism experience in which they are required to report on topics through a variety of different mediums. This is a great course for those wanting an introductory taste into the world of reporting.
Tiger Times (AKA Publication)
This is the class for those interested in being on the staff of the Tiger Times. We are the written published media arm of Erie High School. We need people with varying interests, whether it's sports, politics, entertainment, fashion, news or something else. We are looking for the best team of news writers in the school to grow the first ever newspaper/online publishing class at Erie High School.
Erie Tiger Network
This is the class for those interested in being on the Erie Tiger Network Team. We are the electronic & published media arm of EHS. From online web journalism to live sports broadcasting, the Erie Tiger Network is more than just a class, it's a full journalism media experience. We need people with all interests whether it's announcing sports, using a camera, being a TV producer, or a reporter. Students will also create a documentary and narrative video productions and chronicle various school activities. Students will also produce short creative films, and public service announcements. Students will assume leadership roles in video production.
Yearbook
Students who have visual and verbal creativity, sound writing skills, and a desire to serve on the yearbook staff are encouraged to apply. All class members must have a verifiable history of being responsible, organized, and able to solve problems creatively. The class is designed for independent, self-motivated students who are organized and able to complete assignments by specific deadlines and who are committed to journalistic excellence