Transportation To/From School
Students have many different ways of attending Erie High School. Students who ride the bus can find information about their bus route and times in Infinite Campus by clicking on More on the left side of the screen and then clicking Transportation as shown below: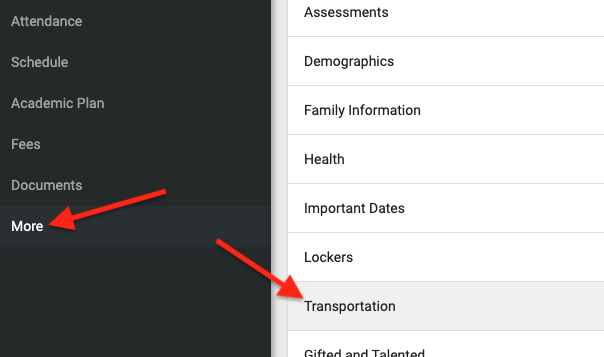 Students will scan their bus pass when getting on the bus (the same pass as you had last year). If you need a new pass or if you need more information about your bus, please contact the SVVSD Transportation Department at (303) 702-7530 or (303) 682-7253. If you don't see a bus or route in Infinite Campus, you will need to register with transportation to request bus service. You can register by clicking on this link.
Any students who park in the school's parking lot will need a parking pass. This helps us make sure there are spots available for all who need them and allows us to know who owns the cars in our lot for safety reasons. To get a parking permit please fill out this form (this form is available on the EHS website at Support > Transportation Support). When you are at school you can get your permit from the main office.
Some students are dropped off by their families. To avoid traffic congestion please consider coming to school a few minutes early. All drop-offs should take place in the designated lane (orange in the picture), not in the parking lot lanes (black in the picture).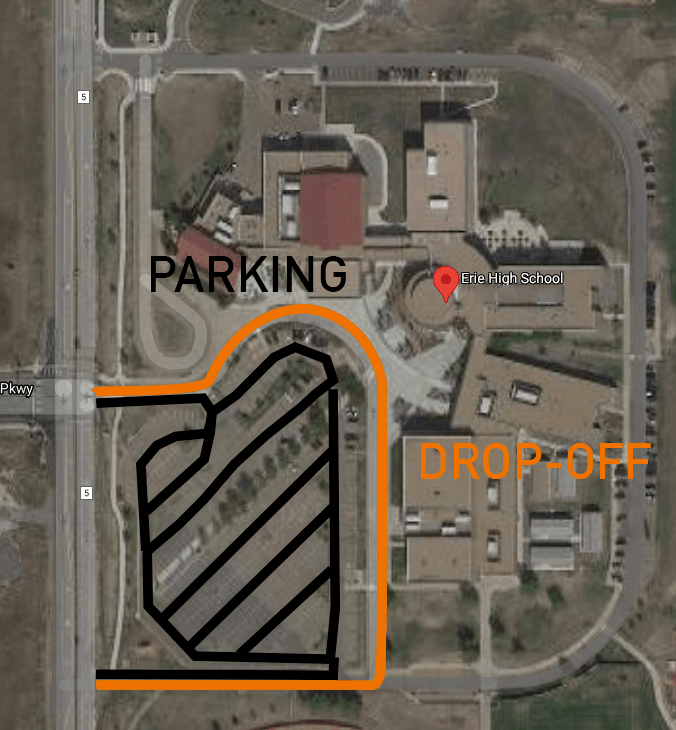 Please drive very carefully in our parking lot and drop-off lanes. Our students' safety is of primary importance to us and many people in these lanes are new drivers. Always look backward and back slowly and use your seat belts and turn signals to increase safety.