Prom 2022: Black Tie Ball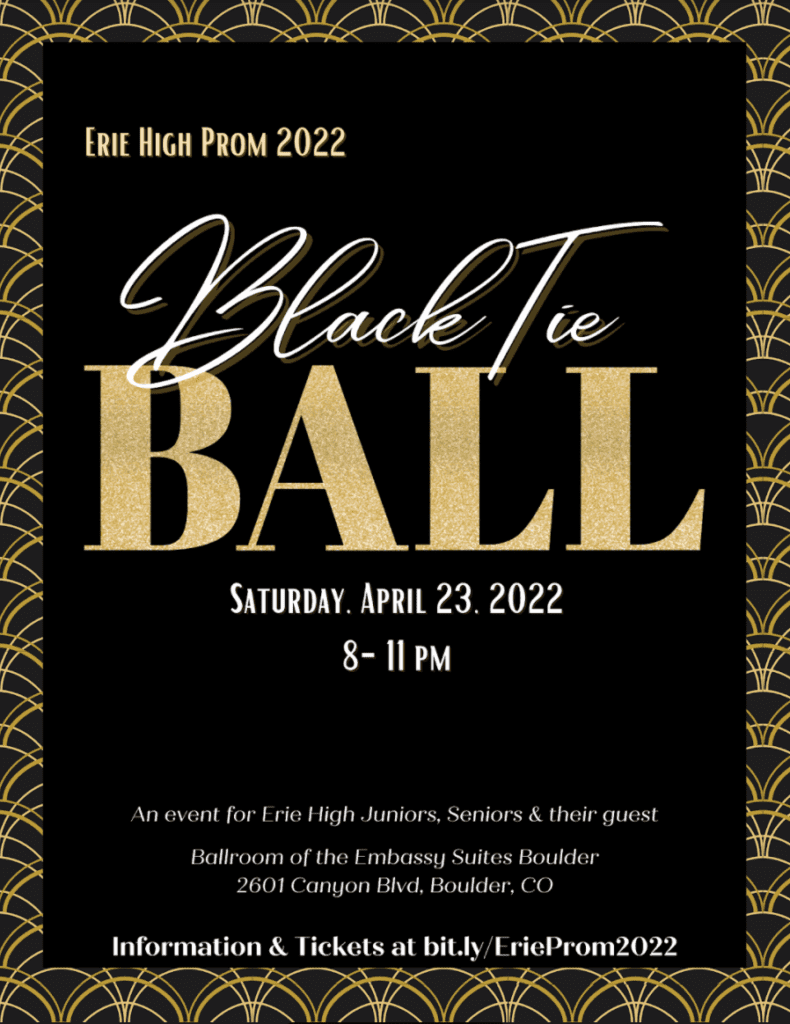 This year's prom entitled "Black Tie Ball" will be Saturday, April 23, 2022, at the Embassy Suites Boulder from 8-11 pm.
This is an event for all Erie High Juniors, Seniors, and their guests. We are so excited about this big event and continue the tradition of prom. The prom website is bit.ly/ErieProm2022.
Tickets for prom are sold through a link posted on the Class of 2022 (Senior) and Class of 2023 (Junior) Schoology page. Tickets are $50. Tickets must be purchased by Friday, April 22 by 2:45 pm.
All guests (EHS freshmen, EHS sophomores, and non-EHS students) must complete a guest form located on the prom website and turn it into the front office by Thursday, April 21 and prior to purchasing tickets. After the dance, students are encouraged to attend AfterProm located at Erie High School.
AfterProm is from 11 pm- 3 am and is sponsored by EHS Booster Club. AfterProm is a free event and includes extreme inflatables, casino games, a food court, a chill-out lounge, and lots of giveaways. Students should register for AfterProm on the prom website or the AfterProm website 
https://www.eriehighschoolafterprom.com.
The AfterProm committee is also looking for more volunteers to make this event amazing for our students. Please go to the AfterProm website to sign-up. During the April 20 Advisory time, there will be an assembly for all Juniors and Seniors. At this assembly important prom information will be shared, there will be giveaways, and a very special message shared. We look forward to seeing our Juniors, Seniors, and their guest at Prom 2022!