2022 Football Home Opener
Erie High School Football faces off against Ponderosa High School in the Season Home Opener on Friday, August 26th at 7 pm. We expect a great number of fans to attend this game so it is important to keep a few critical things in mind:
Limited parking is allowed in the EHS Main Lot, Soaring Heights Main Lot, the small lots on the rear side of the school behind the S and C wings, and in the bus loop. Parking is NOT allowed in the small lot behind the portable buildings for game workers and patrons that require additional time. Due to recent road construction, if you choose to park on County Road 5 you do so at your own risk and it is essential that you park as far as you safely can from the roadway and be very careful on your walk to the stadium. Please consider carpooling with others to reduce the number of cars that are in the parking areas. Please plan to come to the game early so that you may park and make it to the game without missing any action of the game. The following illustration shows parking areas: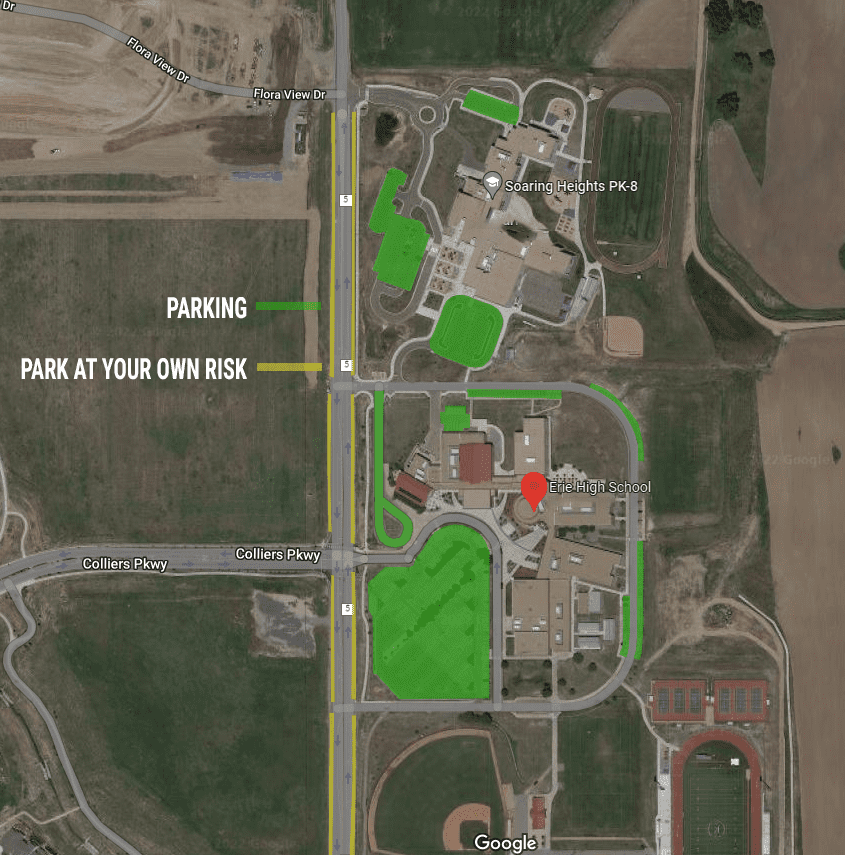 There is a separate, designated marching band and student section for those groups. All other guests may sit in the remaining available stands. As this is a high school-sanctioned event, the use of alcohol, drugs, and nicotine are strictly forbidden before, after, and during the game on school property. Backpacks are prohibited and students will not be allowed reentry.
Tickets cost $6 for adults and $5 for students. Tickets may be purchased in advance at ERIE FOOTBALL GAME TICKETS
We look forward to enjoying football under the Friday night lights once again! By keeping all of these things in mind you'll certainly have a much more enjoyable time cheering for your ERIE TIGERS!