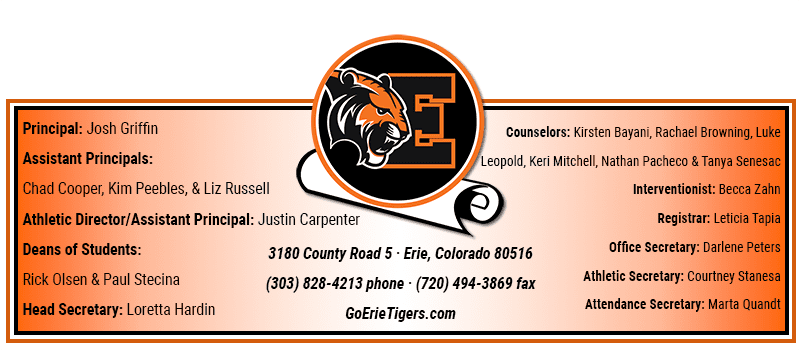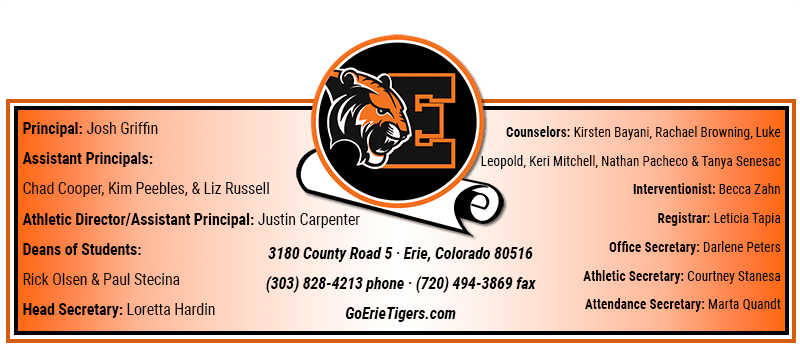 Dear Erie High School families,
I wish you and your family a wonderful four-day weekend from October 14 – 17. This is an important opportunity for our students, faculty/staff, and families to enjoy some downtime and recharge before the 2nd half of the 1st semester.
The extended weekend arrives at the conclusion of a very busy week at Erie High School.
On Wednesday night, I had the privilege of participating in the Erie Feeder presentation for the SVVSD Board of Education at their meeting. It was an amazing opportunity to share the great things happening in our Erie elementary & middle schools, as well as our outstanding school program at Erie High School. I sincerely appreciate the opportunity provided by the SVVSD BOE to allow our student leaders, teachers, and administrators to share our pride in this great feeder system. I appreciate the hard work and commitment of Ms. Russell and Mr. Stecina in organizing the amazing "In Erie we thrive" video to represent our great schools. Most importantly, the seven EHS student members of the Erie High School Superintendent's Advisory Council did an amazing job of organizing and contributing to this community presentation.
Thank you to our 9th – 11th grade students for their commitment to completing the PSAT/NMSQT and practice PSAT exams that we administered on Wednesday, October 12th. It was a great opportunity for our students to engage with the PSAT assessment and prepare for future PSAT/SAT exams.
I appreciate the hard work and leadership of Erie HS AP Mrs. Peebles, who organized and led the test day administration on Wednesday, and I am grateful to our teachers, counselors, and staff for their efforts to facilitate this administration.
It was great to see so many students and families in attendance at our Parent-Teacher Conferences this week. Conferences are an important opportunity for teachers and families to strengthen their partnerships in support of student growth and learning.
It is my most sincere hope that you and your family enjoy this upcoming four-day weekend.  I look forward to another great week of learning, development, and achievement at Erie High School next week!
Sincerely,
Josh Griffin
Erie High School Principal