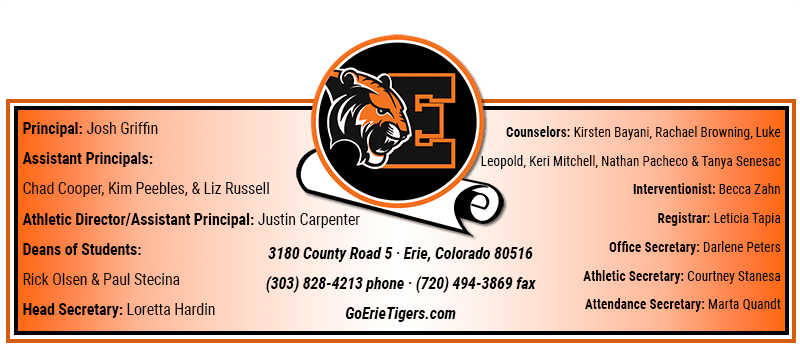 Booster Club Updates  – 12.09.2022
Dear Erie High School Families,
As we approach the end of the semester, this is a very exciting time at Erie High School.  Our students and teachers are doing great work in the classrooms to support a successful conclusion to the 1st semester, and our student musicians, artists, performers, and athletes are shining in their various endeavors.  At the time of this writing, we are in the midst of a five-day girls/boys basketball tournament co-hosted with Mead High School, and the first few meets of the year for our wrestling and girls swim & dive programs.   Additionally, our Cheer & Dance programs are looking ahead to their state competitions on Friday, December 9th, and Saturday, December 10th respectively.  Next week, our Choir (December 14th) & Orchestra (December 15th) students will perform their annual winter concerts.  I am proud of these students, their teachers, and their coaches, and I appreciate all their hard work and dedication to success.  It is a great time to be an Erie Tiger!
Over the course of the semester, I have continued to find opportunities to learn more about the great things happening at Erie High School.  In addition to the robust support we receive from the Erie High School Education Foundation (outlined in a newsletter several weeks ago), our students, staff, and community benefit greatly from the generosity and dedication of the Erie High School Booster Club.   As a St. Vrain Valley School, we are fortunate to receive incredible support from our district to offer so many outstanding opportunities for our students to engage in school-based programs.  In addition to that support, at Erie High School, we benefit from the Booster Club's focus on supporting our students in their athletics, performing arts, and extracurricular activities.  
Our parent leaders behind the Booster Club have worked thoughtfully and diligently to revitalize the organization, with a keen eye on supporting our students and staff.  The mission of the Booster Club is to "establish a support group to encourage parents and community participation in Erie High School Extracurricular activities and to raise funds to enhance and expand those activities that are available to each individual student at Erie High School. The Booster Club feels strongly that parent and community involvement during the high school years can be a key to the success of the individual student".  This is an important mission to support our vibrant, dynamic school environment.
I encourage all Erie High School families to learn more about the Booster Club with detailed information linked here and to determine how they may be able to support this vital organization.  You can learn more about programmatic opportunities, fundraising support, and the Booster Club grant program in the information provided.  This is an outstanding organization of dedicated volunteers seeking to provide the greatest support possible within our community.  I thank you in advance for your support and engagement with the Boosters.
I hope that you all have a great weekend. Thank you for your continued support of your child(ren) and Erie High School.
Sincerely,
Josh Griffin
Erie High School Principal