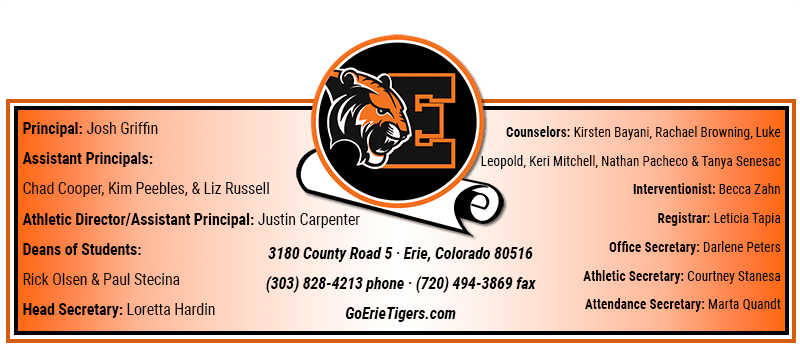 December 22, 2022
Dear Erie High School families,
Thank you for your support throughout the first semester of the 2022-2023 school year.   We have enjoyed great student success in academics, athletics, music, performing arts, visual arts,  and community service since the start of the school year.  I am proud of our students, grateful to our teachers & staff, and thankful to our parents and families –  student success is dependent upon the vigilance and commitment of all parties in our school community.
I appreciate the flexibility and consideration of our community members with the shift to remote learning on Thursday, December 22nd.  I know that this type of adjustment requires the flexibility and open-mindedness of everyone involved in the success of our school – thank you for working thoughtfully to ensure that our students can complete the semester on a positive note in spite of the inclement weather.
I wish you and your family a wonderful Winter Break, a happy holiday season, and a Happy New Year! This is an important time for all of us to unplug, rest, and relax prior to the start of semester #2. Enjoy this time with your family, friends, and loved ones. Thank you for your strong support of your child(ren) and our school this year. I'm looking forward to a great 2nd semester in January 2023!
Sincerely,
Josh Griffin
Erie High School Principal