What to know for the 2022-23 school year
We are excited to head into the 2022-23 school year! It's never been a better time to be an Erie Tiger. Here are some helpful tips for you to consider as we plan to begin the new school year.
School Supplies:
Parents of new high schoolers frequently ask why we don't have school supplies posted for parents to see. The reason is that every student has different needs because of the diverse class loads that students take. During the first week of classes, teachers will share what supplies students will need to have to be successful in their particular class. On the first day of school students should bring their iPad fully charged, something to write with, something to write on and a water bottle.
Bell Schedule:
Remember, the most accurate version of students' schedules are in Infinite Campus. Check IC for your schedule right before classes begin. There may have been schedule changes you are unaware of.
The bell schedule has not changed from last year. Classes are 87 minutes long with 10-minute passing periods with three 40-minute lunch periods.  A warning bell will ring three minutes prior to classes beginning.  Late Start/PLC Days will be held on the first Wednesday of each month (other than October and January) and will follow a modified schedule.  Advisory will be held on Wednesdays and there is a schedule to accommodate it.  There is no Advisory on weeks with a Late Start/PLC Day. (This information is available by clicking on the Hours & Location button on the school's website).

Advisory will be held on Wednesdays this year (except for Late Start/PLC Days). The schedule for those days is below:

Counselor & Administrator Alignment:
Erie High School's Counselors and Administrators work with students based on the first letter of their last name.
A – Con: Nathan Pacheco, Counselor – Liz Russell, Assistant Principal
Coo – G: Kirsten Bayani, Counselor – Kim Peebles, Assistant Principal
H – Lan: Tanya Senesac, Counselor – Justin Carpenter, Assistant Principal
Lao – Pa: Luke Leopold, Counselor – Chad Cooper, Assistant Principal
Pe– Sp: Keri Mitchell, Counselor – Paul Stecina, Dean
Sq – Z: Rachael Browning, Counselor – Rick Olsen, Dean
Lockers:
Erie High School has enough lockers for every 9th and 10th-grade student. You can find your locker number and combination on Infinite Campus. Click on More on the left side of the screen and click on Locker as shown below: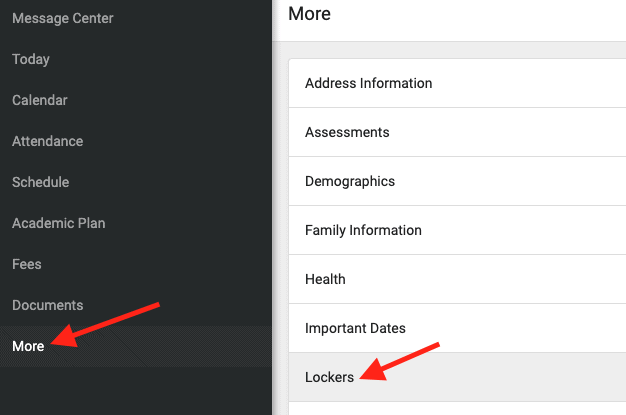 9th or 10th-grade students who would prefer NOT to have a locker should let the school know so we can issue that locker to an upper-classman. You can let us know using the form in this link.
Any 11th or 12-grade student who would like to have a locker may let us know using the form in this link and we'll work on getting your locker set up in Infinite
Campus.
Transportation:
Students have many different ways of attending Erie High School. Students who ride the bus can find information about their bus route and times in Infinite Campus by clicking on More on the left side of the screen and then clicking Transportation as shown below: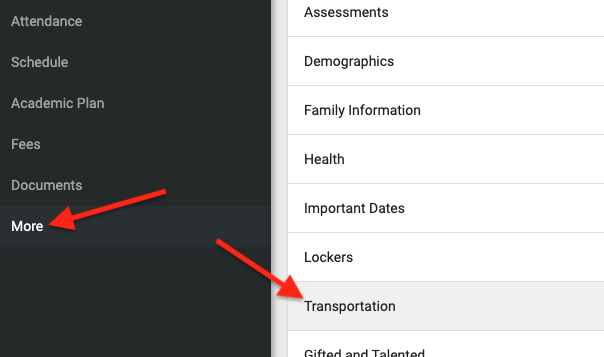 Students will scan their bus pass when getting on the bus (the same pass as you had last year). If you need a new pass or if you need more information about your bus, please contact the SVVSD Transportation Department at (303) 702-7530 or (303) 682-7253. If you don't see a bus or route in Infinite Campus, you will need to register with transportation to request bus service. You can register by clicking on this link.
Any students who park in the school's parking lot will need a parking pass. This helps us make sure there are spots available for all who need them and allows us to know who owns the cars in our lot for safety reasons. To get a parking permit please fill out this form (this form is available on the EHS website at Support > Transportation Support). When you are at school you can get your permit from the main office.
Due to construction, traffic will be a bigger concern this year. Please pay close attention to updates from SVVSD about construction conditions near EHS. Also, please consider creating a SchoolPool with neighbors to reduce the volume of cars at EHS.